Guide
Mobility Guide: Working in Papua New Guinea
Papua New Guinea is a country full of natural resources and offers many economic advantages for companies. But how do you mobilize your employees in an unknown land?
Since 2016, Easy Skill has been facilitating the international mobility of companies by helping them set up in Papua New Guinea. Visas, work permits, contracts, logistics... Easy Skill takes care of the procedures, from A to Z.
Going through Easy Skill reduces the stress, delays and expenses of your mobility projects!

Download our "Mobility Guide: Working in Papua New Guinea" to better understand the administrative steps of this mobility project and know everything about Papua New Guinea.
Fill out the form on the right and get your guide! 👉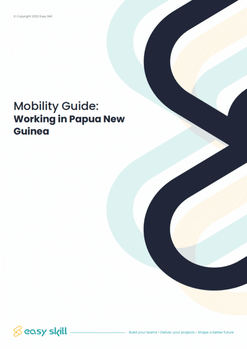 The cost of a failed expatriation can be as high as 600,000 euros, due to poor candidate selection and administrative constraints.
Testimonials
"In some countries, bringing in international experts is almost impossible. Between work permits, local laws, access to healthcare, and cultural adjustment... it's overwhelming. To ensure success and speed of arrival, we call Easy Skill."
Director of Operations, CGG.