← Select another article
We live in the digital age and we're floating in a sea of information, yet we're often subpar when it comes to accessing the right knowledge at the right time. In the world of field services, mobile and remote workers combined with outdated knowledge management practices cause delays, inefficiencies and losses of valuable information. Fortunately, new technologies are creating innovations in the planning, delivery and analysis of global field services.
Automation and wearable technology.
Automating administration has made a tremendous impact on managing workloads and reducing administration. When it comes to how we share, deliver and store information, we're primed for change. Augmented reality (AR) and virtual reality (VR) are gaining popularity as organizations look to increase the operational efficiency of field services. Training, maintenance and repairing tasks are made easier with wearable technology that can immediately upload information directly to technician devices. The devices also bring information straight to the technicians without the need to look through manuals for hours, travel back to the office or waste time on support calls.
The eyes of an expert.
After completing hundreds of projects across the world, we understand the daily challenges faced by our field experts first-hand. In a recent conversation with one of our senior maintenance experts, Roland Canivet, we explored some of the most common issues industrial sites are facing including:
Operating and execution processes (maintenance, incident response, start-up/downtime on new equipment)
Knowledge management (knowledge transfer, implementing best practices for everyone)
Instruction manual availability and access to updates
Commissioning and decommissioning
Tackling the tough industrial challenges.
Fortunately, there are options and selecting the right solution that aligns with your organizational needs is critical. Easy Skill is proud to partner with HINDSITE Industries to introduce a new wearable, remote mentoring and knowledge management platform. Rugged devices can be connected directly into smart glasses, watch, smartphones, laptops and drones. Whether it be improving incident response, onsite assessment, handovers or shutdowns, this solution will create new possibilities for major industrial players.
Ready for the digital field revolution?
Embracing digital innovation for field services is essential to delivering better productivity, efficiency and quality.
Here are the top seven reasons to switch now:
Unlock productivity gains.

Trying to recall, look-up or call for information can be flawed, slow and frustrating. Providing field technicians with relevant information in a method that's easy to access and use can add some serious velocity to operations. Access to the right knowledge at the right time enables workers to get the job done faster and more effectively.

Empower high-quality results.

Every organization is invested in driving productivity. Field service workers are no different. In order for them to carry out their daily responsibilities, they need to be empowered with the right tools for their job. Streamlining access to information while in the field is a total game-changer.

Standardization creates consistency.

Guiding workers on how to complete projects correctly while they're actually performing the tasks ensures greater compliance with your ideal process. Providing ways to efficiently record job-related information, reduces paperwork and increases the quantity and accuracy of information captured.

Cost savings and increased capacity.

Reducing travel time associated with field work saves travel and administration costs. Enabling access to tutorials, historical data and scheduled maintenance while in the field, eliminates unnecessary back-and-forth and unlocks hidden capacity to complete more jobs in a single day.

Proficiency yields higher satisfaction.

Field staff frequently find themselves frustrated by a lack of knowledge needed to perform their jobs. Studies show that staff who can find the answers they need are happier, more engaged and more satisfied.

Bridge the talent gap.

As senior staff prepare for retirement, losing long-standing tribal knowledge is a major risk. Now is the time to ensure valuable insights and techniques are captured and saved for the new generation of field workers.

Shrinking talent pool.

According to Gartner, more than 40% of field service work will be performed by contractors shared across multiple companies. Investing in dynamic training with better flexibility and support will shorten the learning curve on the job and deliver serious ROI to organizations.


The future is now.
Roland experimented with smart glasses in the field and here's what he had to say. "When you detect an equipment failure, it's not easy to know exactly where it comes from. The glasses were incredible. I could read technical documentation with my left eye and see equipment with my right. At the same time, I was discussing the issues with an expert who could see exactly what I was doing," Roland recounted. "This level of real-time knowledge sharing and precision when troubleshooting will change the future of field services forever."
The future is bright.
One thing is for certain. The field services industry isn't going anywhere. Grandview Research has forecasted field services market growth from $1.73B in 2016 to $4.16B by 2025. The industry is ready for a serious digital transformation and we anticipate the rapid adoption of wearable devices such as smartphones, smartwatches, VR or AR devices equipped with the right software solutions to enable real-time knowledge management with simplicity. Empowering productivity through people and technology is a trend that's here to stay.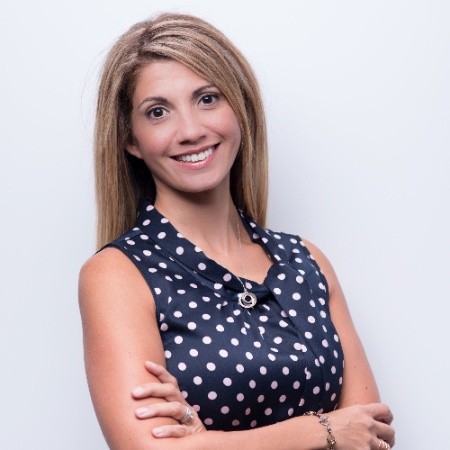 Samantha Shah
Chief Marketing Officer
Our chief value creator with a knack for finding meaning everywhere. She bends words to create clarity while making a lasting impression. She can also make you laugh. An exiled Canadian now living in Australia, she enjoys the heat but misses snowboarding and the apres ski.
Loved this article, want this kind of content and more delivered to your inbox?