← Select another article
When one door closes, another one opens.
Starting the year in turbulent times, Samuel was far outside his comfort zone. He found himself with waves crashing over him in his previous role, so he learned to float to survive. And you never know what may trigger from the surrounding wreckage. And for Samuel, this is when his path led him to Easy Skill. As a project engineer in Proportional Integral Derivative (PID) design, his specialised expertise was hard to find.
A new horizon is full of surprises.
Success often lies on the other side of hardship. Samuel was hired as a consultant on the industrial site of Kem One in Fos-sur-Mer (south of France). The site was facing serious issues with polymer storage and they needed an expert. Inadequate storage space creates a reliance on subsidiary companies for the supply, which causes a lack of productivity. "When I joined the team, resolving the factory's storage capacity was critical to ensure seamless operations," shares Samuel.
Challenge accepted.
Samuel played a lead role in delivering the new storage tank on time. Thanks to engineering drawings and PID on the project, the installation paths became clear. This clarity enabled engineering departments to plan their interventions with accurate information. Centralised documentation and detailed visualisation ensured the delivery was on time. One could even say mission accomplished.
Bridging the internal team knowledge gap.
Gathering information is a vital step in every project. Yet to reach the team's peak potential, the new method required knowledge transfer across disciplines. Samuel was able to make a case for sharing his knowledge and train the team. Training people is a powerful change management tool and ensures know-how has been transferred .
Minimising risks in hazardous environments.
Knowledge and training also helped to improve the installation and created a safer workspace. Working in a hazardous environment, paying attention to the details is key and there is little margin for error. Being a major contributor to workplace safety is something that Samuel is tremendously proud of. "The results of my work are helping everyone to go home safely at the end of the day. This is part of what makes my job so meaningful," states Samuel. Isn't it fulfilling to create lasting positive change and leave a legacy behind?
Being a team player.
When your start a new job, there's a lot to learn in a short period of time. Understanding the people and the culture is tied to your success. At Kem One, Samuel found himself joining the employee soccer team and playing twice per week. Bonding through sport is a great way to build stronger connections with co-workers. Social connection matters more than we think, especially during a transition to a new job. As Samuel sets his sights on becoming a project leader in the future, learning to be a team player is a smart choice.
Keeping another connection going.
Samuel is now busy working on-site as a consultant. Although he doesn't spend a lot of time with the Easy Skill team, he always makes connecting a priority. "My business manager Steeve is always checking in on me to ensure I'm happy. If I'm ever experiencing any difficulties, I always hear from him faster than I expect! He genuinely cares about me and my success. It's refreshing," says Samuel. Building a network of people who are invested in your success is how Samuel describes his experience.
Every great story begins with a hero facing a challenge. Overcoming those hard times is the entire plot of the story and in life. Conquering problems and tackling adversity builds resilience and takes you in delightfully unexpected places, just like Samuel. Careers are an adventure and it's exciting to see where you'll end up.
At Easy Skill, we help people reach their potential and find the right opportunities where they can truly excel. By connecting people with companies at the right time, we help everyone to work together to achieve better outcomes. We absolutely love seeing people and companies thrive while shaping a better future. In fact, it's why we show up to work every day.
Ready to find your happy work place? Apply to our opportunities now.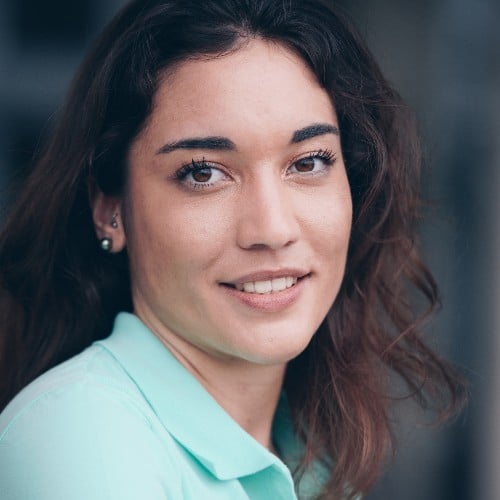 Zoé Braun
Content marketing specialist
Brand storyteller in more than just one language. She writes moving human stories and translates technical topics so they're easy to understand. Pretty nifty. She considers business is about building trust and long-lasting relationships. She gets jumpy if she doesn't get at least 3 weekly hours of sport, running, yoga, kitesurfing, - you name it!
Loved this article, want this kind of content and more delivered to your inbox?