← Select another article
Significant investments for a radical shift.
EV is catching on across car manufacturers. Ford announced its intent to almost double global investment in EV, hoping to reach $22 billion by 2025. As production for EV grows, the market forecasts an annual growth rate of 22% until 2030. The supply and demand equation is strong. Car makers will build cleaner vehicles and consumers are ready to buy. Beyond environmentally friendly as consumers also require sustainable standards and ethical supply chains. So this means the EV commitment must cover ethical sourcing of raw materials.
Geopolitical tensions are putting pressure on mining.
According to a 2020 United Nations report, the materials for the EV lithium-ion battery are only found in a few countries. In most of them, environmental and labour regulations are timid. Whether it be cobalt in DRC, lithium in Mexico or Mali, or even one of the largest lithium sources in Afghanistan, some regions have additional geopolitical issues that make supply chain management more complex. Achieving transparency for the battery supply chain is essential for consumers, but brings many challenges.
Please. Get. Nickel.
The mining community remembers Elon Musk's speech back in July 2020. "Go for efficiency, obviously environmentally-friendly nickel mining at high volume. Tesla will give you a giant contract for a long time if you mine nickel efficiently and in an environmentally sensitive way. So hopefully, this message goes out to all mining companies. Please get nickel." This message was a famous heads-up to the mining community forecasting a massive demand surge. The long-term success of the EV industry depends on finding reliable, ethical mining partners.
A spike in nickel prices.
Since global nickel production is not meeting demand needs, the market is feeling more pressure than expected. And it's reflected in the price. Nickel prices have just hit a record high at the London Metal Exchange (LME) last Friday (10.09.21). Reaching a peak since May 2014, rates are sitting at $20.70 per tonne of nickel. According to the Australian investment bank Macquarie, we can expect a deficit of 72,000 tonnes due to an unprecedented rise in demand.
Production goals versus reality.
When it comes to EV production goals, we can explore the challenges of Elon Musk as an exciting example. His objective is to produce 20 million vehicles per year before 2030. And a Tesla car needs on average 45 kilograms of nickel-based on the production forecast. When Tesla achieves its goal of making 20 million cars in a single year, they will need to secure more than 30% of all nickel produced worldwide according to 2019 forecasts. See in the table below the approximate quantity of ore necessary for Tesla cars.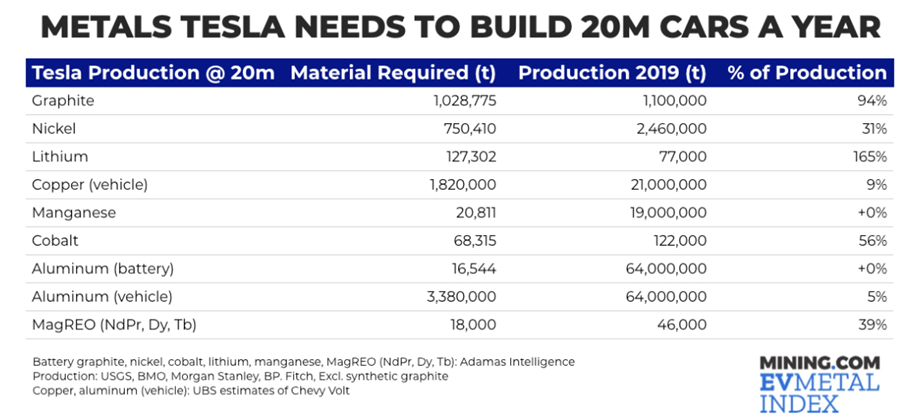 Promising partnership in New Caledonia.
Conversations between Tesla California HQ and New Caledonia have come to fruition to meet the demand for raw materials. Tesla is eager to partner with the Goro Nickel Mine in the South. With a capacity of 60,000 tonnes of nickel annually, the Goro Mine facility can answer the call. They presented on energy transition and how it could aid in advancing industrial processes with a sustainable core. This partnership contributes to securing Tesla's supply in nickel for the years to come.
Tesla drives mining growth.
The memorandum of understanding outlines Tesla's role as a key partner in the Goro Nickel Plant. Tesla will act as a technical and industrial advisor to increase production capacity, incorporate sustainability standards, and secure the minerals supply for its car production facilities. With a southern plant reporting over 193.5 million tonnes of nickel and cobalt available, the future looks bright.
Quality at affordable costs.
The southern plant is focusing on the production of NHC - nickel hydroxide. Made of 37% nickel and 2-3% cobalt, this crude intermediate product is easier and cheaper to produce and is the raw material for lithium-ion/nickel batteries used in electric vehicles. NHC is desirable as it's cheaper to operate than crystallized sulphates or nickel briquettes (implying additional dissolution costs).
Ramp-up plans.
At the end of 2020, mineral extraction on the island increased significantly by 16%. However, in 2021 the effects of COVID, social movements, and the site's sale have decreased the mining outputs. The outcome is that mining facilities will benefit from higher prices today. If the Goro Mine reaches 20,000 tonnes of nickel production this year, there's a ramp-up plan to increase to 35,000 tonnes in 2022 and 45,000 tonnes in 2023. "This ramp-up strategy aligns with investments such as a definitive automated NHC production installation," says Didier Ventura, managing director at Prony Ressources on the Goro Mine.
Sustainable waste management.
Environmental social governance is no longer an option for mining facilities. On the Nickel Goro Mine, the new leadership will be carefully considering waste management handling. This site creates 5.4million tons of wet tailings and the tank doesn't have capacity beyond 2023. This limitation has led to a big project called the "Lucy Project" - a dehydration plant and infrastructure to hold future tailings. The project starts in 2021 and is a new breath for New Caledonia and the mining workforce.
Every industrial player is doing its part to contribute to a global transition to cleaner energy. Infusing sustainability into the process of sourcing and preparing is essential to bring the environmental mindset to the supply chain. Minimizing environmental disturbance and avoiding damage is the core focus mining producers need to tackle to remain competitive. Aligning consumer demand, production goals, and sustainable supply chains will ignite a positive global change. Building a better tomorrow for everyone starts in the industries today.
If you're ready to supercharge your technical team, drop us a line here.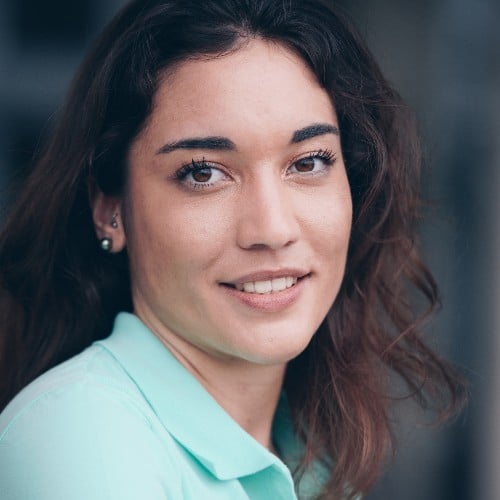 Zoé Braun
Content marketing specialist
Brand storyteller in more than just one language. She writes moving human stories and translates technical topics so they're easy to understand. Pretty nifty. She considers business is about building trust and long-lasting relationships. She gets jumpy if she doesn't get at least 3 weekly hours of sport, running, yoga, kitesurfing, - you name it!
Loved this article, want this kind of content and more delivered to your inbox?