← Select another article
If the number of engineers is steadily growing, the sectors' demand has changed. As the global job market is rapidly evolving, engineering has not escaped this trend. Some jobs will disappear over time, as much as new roles will be created. Major transformations and upheavals in our society reshape the most in-demand jobs. If you're considering an engineering career or you're an experienced professional eager to see what's next in your sector, here is what you need to know.
IT engineering
According to Glassdoor, 7 out of the 10 best jobs in 2022 were related to IT. From small businesses to large multinationals, the growing need for technical expertise requires engineering people to set up, maintain and analyse the data in their systems. As we rely more and more on digital technology, back-end and full stack developers, software engineers, artificial intelligence engineers, cloud engineers and data scientists will remain in high demand.
Robotics engineering
Autonomous robots that go where no human has gone before, robot companions for the elderly, search and rescue, streamline work processes… What robotics encompasses is huge and has virtually no limits. The demand for robotics engineers who design both hardware and software for robotics solutions will consequently grow. The job market is expected to grow 9% between 2016 and 2026.
Biomedical engineering
This sector has one of the highest growth rates, forecasted at around 23%. The medical sphere is shifting to start using more technologies with connected devices and equipment. The pandemic has accelerated this trend with telemedicine and remote diagnosis. The global ageing population reinforces the importance of implementing long-lasting tech innovation.
Renewable energy sector in progress
If your ambition is to save the planet, it's compatible with an engineering career. The alternative energy sector, including solar, wind power, geothermal energy, biofuels, and hydropower, is growing fast and requires engineering skills. Mechanical and electrical engineers with a post-grad in energy are best suited to these roles, for example.
Petroleum engineering
With the energy transition, we could foresee a decrease in our oil and gas consumption. However, this shift doesn't imply the end of petroleum engineers overnight. Oil remains in high demand, and the increase of renewable energy sources will not erase the oil and gas sector for now. The petroleum engineering industry is expected to increase by almost 15% by 2026.
Mining engineering
The need for nickel, cobalt and other rare earths minerals is increasing with the electronic devices demand and the transition to renewable energies. While the sector shifts to a greener exploitation, it's still growing fast and requires specialists to support that transition.

Cybersecurity specialist
2021 has been a record-breaking year for data breaches. According to Identity Theft Resource Center (ITRC) research, the U.S.A. suffered 17% more data breaches events that in 2020. Every company is in need of cybersecurity experts to protect their and their customers' data making that specialty will gain more and more popularity.
Electrical and electronics engineers
Because of the potential business impact of emerging technologies, companies are eager to find candidates with the skills to harness them to drive bottom-line value. As demand for sophisticated electrical, electronic devices, and products continues to grow, so too will the demand for these professionals. A 7% growth between 2020 and 2030 according to the BLS.
Controls engineers
These engineers create critical systems and mechanisms that drive everything from software development and coding, to conceptual system design. As automation progresses, control engineers will need to design more complex systems and mechanisms. Therefore, control engineer will continue to be one of the most popular candidates for innovative companies.
Civil engineering
Cities need constant evolution: ageing buildings, increasing elderly population, environmental threats and air quality management are significant challenges to be tackled. Every continent will need to revisit the way cities are built to meet these new requirements, so we await a 5% growth in civil engineering roles.
Agricultural engineering
With a globally growing population and limited resources on the planet, managing sustainable food supplies is becoming a vital challenge. In addition, environmental disasters due to global warming will reduce the surface of land available for agricultural use. Agricultural and agronomy engineers will tackle efficiency levels in agriculture. The growth forecast for this sector is around 4%.
New employment types
50% of companies expect that automation will lead to a reduction of their full-time workforce, according to the World Economic Forum. But 38% will grow their teams with new productivity-enhancing roles. The use of contract roles – people who land on an assignment with a particular scope of work for a set period – will also increase. More flexible and competitive, employers are shifting from permanent hire to contract workers and outsourced teams.
Future is now
The job market is changing, and every sector will be impacted. Half of the work-tasks we accomplish every day could be carried out by machines earlier than we think, according to a World Economic Forum report. As a result, we will experience the forced displacement of millions of jobs. To stay ahead of this structural change, we need to develop careers and skills accordingly.
The mandatory upskill
54% of employees will require significant upskilling throughout their careers. Among the most sought-after skills, we'll find analytical thinking, innovation, and technology competency. Soft skills will remain as important as hard skills, even in engineering careers. Repurposing skills is an excellent way to stay ahead in your career journey.
Finding a true sense of accomplishment.
In engineering, like in any other career, accomplishing a mission with a greater purpose can nurture an overall life goal. Healing the planet, developing advanced technologies, improving the quality of life for people: the best job will always be the one that you find meaningful. Before starting an engineering career, and regardless of any salary or sector growth, ask yourself first the right questions, and it will take you somewhere you belong.
Be ready for the unexpected

.
In every sector, the most sought-after jobs of 2050 probably don't even exist yet. Even if we don't know what the future holds, we can expect some general trends in the job market. We can suspect roles like sustainable building regulator, elderly yoga instructor, drone manager, or even AI Psychologist among the new jobs. With a factual outlook on our society, we can get inspired to build our career of tomorrow.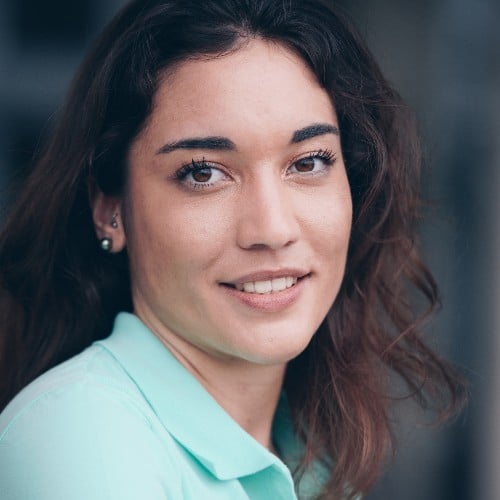 Zoé Braun
Content marketing specialist
Brand storyteller in more than just one language. She writes moving human stories and translates technical topics so they're easy to understand. Pretty nifty. She considers business is about building trust and long-lasting relationships. She gets jumpy if she doesn't get at least 3 weekly hours of sport, running, yoga, kitesurfing, - you name it!
Loved this article, want this kind of content and more delivered to your inbox?